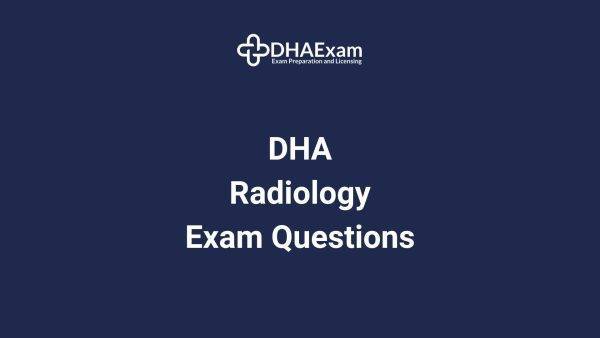 DHA Radiology Exam Question
DHA Radiology Exam Question – DHA Exam Syllabus for Radiology, DHA Radiology Exam Questions and Answers – DHA Radiology Exam Syllabus – Radiology Exam Questions

Number of Questions: 2250+

Subscription Validity: 1 Year
Are you preparing for the DHA radiology exam? If you are, you'll want to be familiar with all the questions that will be on the test. To help you out, we've put together this MCQs package, questions and answers that will help you ace the test!
If you are interested in a career as Radiologist in Dubai, then you need to be prepared for DHA Radiology Exam.
First and foremost, make sure that you are up to date on the latest procedures and technologies in radiology.
This will help you to better understand the questions on the DHA Radiology Exam. also, be sure to review the core radiology concepts.
These include anatomy and physiology, imaging techniques, radiation therapy, and interpretation of radiological images.
Finally, practice our test questions can be a very valuable tool in preparation for the DHA Radiology Exam.
By taking our DHA Prometric Radiology Exam Practice tests, you will not only become more familiar with the format of the exam, but you will also increase your chances of passing on the first try.
Topics Covered under DHA Radiology Exam:
Gastrointestinal
Genitourinary
Neuro
Head and Neck
Musculoskeletal
Chest
Cardiovascular
Pediatrics
Interventional
Breast
Nuclear Medicine
Ultrasonography
Contrast and Safety
Our Radiology Practice Exams are designed to help you assess your knowledge and skills. Furthermore, they are challenging enough to test your abilities while still providing the coverage you need to pass your exams.

We hope you find our DHA exams helpful and that you be able to pass your DHA radiology exams with distinction.

Here are some of the most common questions on the DHA Radiology Exam:

What is a common cause of an altered mental state in a patient with a head injury?
What type of scan should be ordered to assess a patient with symptoms suggestive of a AVM?
What is the difference between a computed tomography (CT) and a magnetic resonance imaging (MRI) scan?
What is the most common complication of a pelvic ultrasound?
Don't worry, we've got you covered. Keep learning, and best of luck on your upcoming radiology examination!
Thanks for considering DHA Radiology as your source for quality radiology exams.
dha exam questions for doctors pdf, prometric mcq general practitioner free download, dha prometric exam for general practitioner, dha exam questions 2021 for doctors pdf, dha exam book for gp